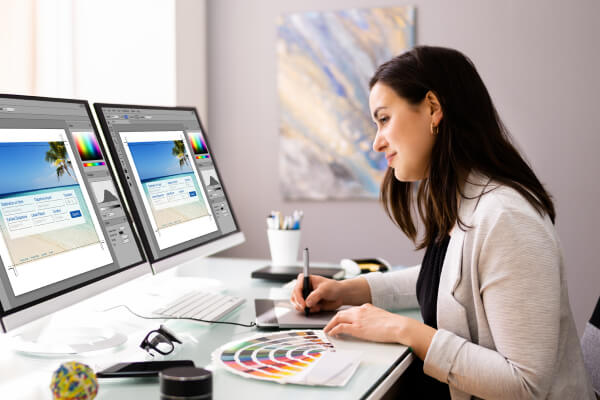 Home » Services »
Desktop Publishing
Desktop publishing (DTP) services can be a critical element in a translation project. Many translations involve typesetting, graphics, website layouts, etc. Our desktop publishing teams specialize in high-quality, translation-related design services, graphic design, documentation and graphic localization projects with fast turnaround.
DTP at Trusted Translations
Trusted Translations has dedicated in-house teams comprised of top desktop publishers and designers with specialized translation-industry expertise. Most document translations require some type of desktop publishing to ensure that the final product's appearance is as close to the original document as possible. For documents with heavy graphics and a complex design layout, desktop publishing plays a vital role in ensuring that the translated text suits the original layout and graphic design. Otherwise, the final product, while translated correctly, could look unprofessional. At Trusted Translations, we do not outsource our desktop publishing projects. Instead, we rely on our in-house design experts to ensure that you receive not only the highest quality translation, but also that the final layout is consistent with the source document.
Desktop Publishing Teams
Having our designers in-house provides us with absolute control over quality and the delivery time schedule. Furthermore, our designers are able to communicate with our project managers seamlessly and in real time, exchanging ideas and feedback about any given project.
Our desktop publishers are trained in the translation process and work hand-in-hand with translators, editors and proofreaders to ensure that the final product reflects the most accurate and up-to-date version of the text.
A key element of the desktop publisher's function is to evaluate each project visually to ensure it is acceptable from a cultural point of view. To carry out this localization process our DTP experts assess graphic elements and color choices to ensure they are not insensitive or offensive to target audiences and cultures and adapt them to the local market when necessary. Design must also evaluate textual and grammatical implications, as certain languages are oriented differently on the page or use characters and punctuation differently.
Our desktop publishing teams specialize in fast turnaround of high-quality documentation and graphic localization projects.
Trusted Translations has on-staff designers for complex desktop publishing projects.
Our designers will ensure colors,  graphics, and other visuals are suited to your target markets.
Desktop publishing services are available as part of our full-service translation process.
We have in-house website marketing experts to help improve your online presence.
Translation Format and Design
With a strong grasp of the nuances of different technologies, Trusted Translations knows the importance of maintaining the electronic format and design of the original document. Whatever the format, we will deliver the final translation in the same format as the original document. This minimizes any administrative hassles and allows you to use the translation immediately.
Desktop Publishing Services
The Trusted Translations DTP teams have the experience required to produce professional-quality localized documentation in any format, including:
We usually offer our DTP services as a part of our complete translation process, but we also offer DTP services for translations done by another agency or third party.