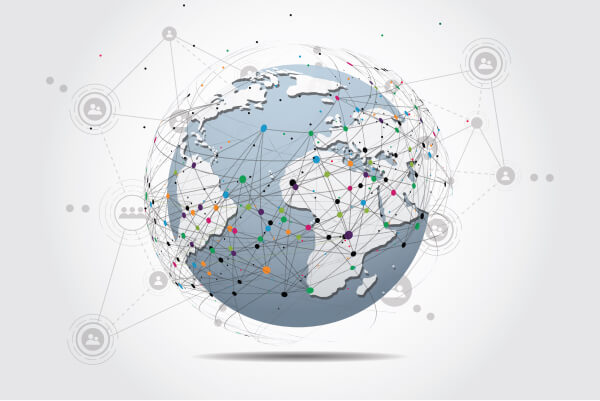 Home » Services »
Globalization
A very specific sense of globalization refers to the process of preparing a product or service to be offered in many markets or worldwide. As an industry leader in product and content globalization,
Trusted Translations
will help you prepare for the different aspects of doing business in multiple countries.
Going Global
You may have heard the term globalization mentioned alongside two related concepts, internationalization and localization. Although their usage can be confusing, an easy way to understand the relationship between the three terms is a simple formula: Globalization = Internationalization + Localization. 
Globalization is a process that encompasses two complementary but distinct (in fact, almost opposite) components. Internationalization is more general; this term describes using the planning and development cycle to create a product or service that can later be easily adapted for various markets. Localization, on the other hand, is more specific; this term describes actually tailoring your product or service to specific markets after its launch. 
The combination of internationalization and localization produces globalization, an industry term that covers the broader concept of "going global"—that is, of taking your business into new markets worldwide, as part of an international economy in which commerce travels across borders. 
Globalization Services 
Here are several of the areas of globalization in which Trusted Translations specializes:
Product Globalization
Product globalization creates or modifies a product so that it can be used across many languages and cultures. This process normally results in modifications to user interfaces, technical documents, online help content, legal agreements, etc. As such, it can involve extremely complex material, such as patents, copyright, contracts, and more. 
Product globalization can also mean adapting software programs to a local culture, translating any "usable" text to the local language, and modifying certain content to function within the local environment (such as electrical standards or measurement systems).
Content Globalization
Content globalization refers specifically to the adaptation of certain content for its use in an international environment. Special types of content that might be a priority for globalization could include online content, e-learning modules, packaging, technical documentation, and user interface text—all of your most important user-facing elements. 
Since this content can change on a regular basis, Trusted Translations will work with your product development teams to ensure that your organization can update text in a uniform and consistent manner across all media platforms, languages, and target audiences.
Spanish Globalization
Spanish globalization prepares a product to be launched in all of the world's Spanish-speaking countries. Despite having a common language, each Spanish-speaking country is unique. Therefore, Spanish globalization is necessary for companies that are seriously looking to tailor their products and/or services to particular Spanish-speaking markets. 
Trusted Translations has developed unique expertise in the globalization of Spanish content for the U.S. Hispanic market. For more detail about our Spanish localization services, contact us or visit our Localization page. 
Trusted Translations has on-staff software developers specialized in website globalization.
Translation memory tools can help save money as well as improve the reliability of translations.
Globalizing your site will lower the cost of managing content and adding new languages.
Our services range from simple document translations to complex globalization.
Why should companies pursue globalization?
Globalizing expands your market reach, facilitates product acceptance and increased sales in your target markets, and generally raises your organization's profile. As the international market heats up, you'll want to stay competitive by working with industry experts to develop top-tier internationalization and localization.
Reach out to Trusted Translations to learn more about how we can help.