Consecutive interpreting can be a challenging task in almost every environment. Now, take two of the biggest names in sports — Nike and Neymar Jr. — and add an army of fans, a sizable entourage, film crews and a dash of flying soccer balls to the mix. This was Trusted Translations' latest assignment in Los Angeles, California, for Nike and soccer superstar Neymar Jr.
Interpreting for the Elite
For the few of you who don't know, Neymar is considered by most experts to be one of the top three Soccer players in the world. He is expected to be one of the stand-outs at the next World Cup in Russia and is the heart of the Brazilian National Soccer team, a serious contender for the World Cup title. Neymar is also an important face for Nike globally, so Trusted Translations understood fully the responsibility accompanying this assignment.
While Trusted Translations is no stranger to interpretations and translations for high profile individuals, including several Presidents of the United States, this was different. It was for one of the best soccer players currently and — arguably— one of the best players ever. While gaining popularity in the U.S., soccer is clearly Earth's favorite sport and soccer stars are better known globally than any other type of celebrity.
Trusted Translations' Assignment for Nike
Officially on assignment for Nike, Trusted Translations' was tasked to staff one its 10,000 professional interpreters to interpret/translate Brazilian-Portuguese and English for Neymar personally. The project involved magazine interviews, video programs (including on-camera appearances), appearances at youth soccer camps and various photo shoots.
Normally, we would begin our selection process by analyzing our roster of interpreters in the area and choose one with proven and extensive consecutive interpreting experience. However, in this case, the selection process was more complex.
First, we looked for a professional, native Brazilian-Portuguese interpreter who was raised in Brazil. Thankfully, finding a pool to choose from was not a challenging task in Los Angeles as there is a large Brazilian population in the area. Given that Neymar is from the outskirts of Sao Paulo, we did prefer an interpreter from the south of Brazil to ensure we could accurately interpret words particular to that region. It is common to find that the language spoken in one region is very different from what is spoken in a different region of the same country. As the assignment involved very high-profile and in-depth interviews, having an interpreter from Neymar's region would help ensure we picked up on every nuance of Neymar's responses.
Additionally, because the interpreter could be asked to be on-camera with Neymar, we wanted to have someone relatively young and athletic— to better represent the Nike brand.
Selecting the Right Interpreter for Neymar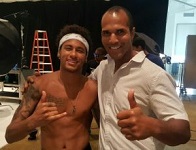 After an extensive search and screening process, we found one of our most trusted interpreters in Los Angeles and staffed him for three days. The interpreter is from the south of Brazil, a highly experienced professional interpreter and—of course—a true Brazilian soccer fan. Furthermore, he is also fluent in Spanish, which was important because we wanted to ensure we could accommodate any Spanish media outlets or other Spanish interpretations that could come up. Finally, he was a champion in his own right with several Judo titles to his name.
I decided to oversee the assignment personally, to ensure the interpreter was the right fit and the chemistry with Neymar was there. We made sure we had several backup interpreters on the bench just in case it was necessary to make a last-minute substitution. Fortunately, our first selection was the right one and a great fit for this assignment.
The Assignment Ended at Jimmy Kimmel Live!
To say the least, Nike was extremely professional and Neymar was a sincere pleasure to work with on assignment. I was most impressed, however not surprised, by how attentive and responsive Neymar was toward the kids who approached him for pictures and autographs. He took the time to play soccer with them, posed for silly selfies, and signed as many autographs as humanly possible.
The assignment ended at Jimmy Kimmel Live! where Neymar was challenged to kick a soccer ball from the roof of a building over Hollywood Boulevard, into a soccer goal on another roof guarded by Jimmy Kimmel's own Guillermo Rodriguez. On the third try, Neymar's shot not only cleared Hollywood Boulevard but made it past Kimmel's well-intentioned goalie and into the corner of the net. Truly amazing.