There are quite a few of clients that believe that the Account Manager, besides selling the translation project, also executes the actual translation, but that is absolutely not  correct. The Account Manager has a huge team behind his back that he/she depends on. Besides the Account Manager, there are Project Manager, Translators, Editors, Proofreaders, IT specialists and DTP specialists. Each position plays a very important role in the translation and document design process.
Our most common translation process, is our 3-step process, which consists of a project manager reviewing all contents of the documents and assigning them to a native target language speaking translator, familiar with the subject of the text. Once translated, the files will be edited by a second translator. The editor will reference the source text, paragraph by paragraph, to make sure no text was skipped or meaning was lost during the initial step of the translation process. Finally, the translated and edited documents will go through a final proofreading, performed by a third professional translator. Both Editor and Proofreader will also be native speakers of the target language.
Below you can see a very helpful chart of how this process looks like: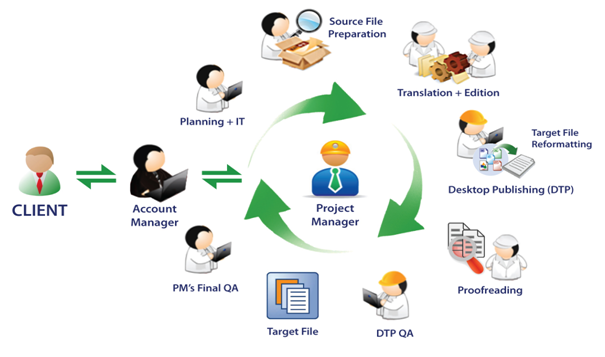 The Account Manager will need to co-ordinate the timing with the Project Manager, so that the translation project is executed in the promised time period. It can happen that the client changes or sends you a finalized document and suddenly you and your team find yourself figuring out what has been translated and what not. Sometimes even, the client informs you that the turnaround time needs to be moved forward, which leads into adding team members, so the client´s deadline can be met.
So, you can see that within the translation process there are a lot of team members that the Account Manager is involved with.
Please click on Quote Request should you be interested in receiving a free quote.