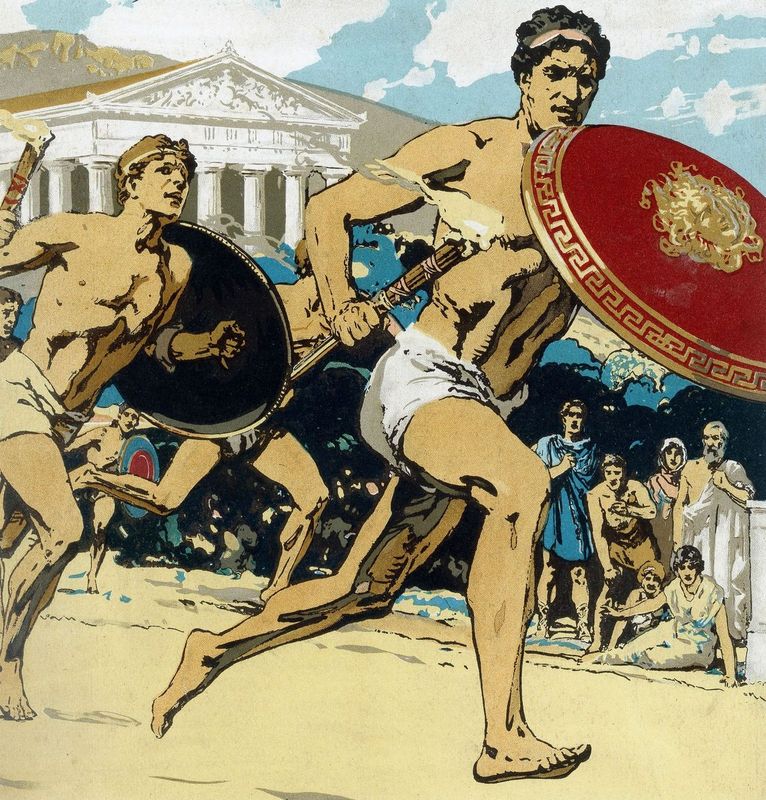 With the 2012 Olympic Games underway, countries from all over the world have been brought together to celebrate the physical prowess of their respective athletes. With this Olympics being the first "social media" Olympics, communication is playing a crucial role in the transmission of the events in London around the world. Of course, whenever individuals from many countries come together on such a wide scale, translation and interpretation play an important role in such communication.
One aspect of the Olympic Games that has always involved translation is the Olympic Hymn. You may remember this hymn from the opening ceremonies last Friday; it is generally played at the opening and closing ceremonies when the Olympic flag is raised. Originally played at the very first Olympic Games in Greece in 1896, the original hymn was written in Greek by the Greek poet Kostis Palamas. Following this Olympics, each host country came up with its own hymn until 1958 when the International Olympic Committee made the original Greek hymn the official Olympic Hymn.
Since 1958, each host country has performed the official hymn, translating it into the host country's language. Generally, the original Greek lyrics and the official English translation are also provided for reference. Below is the original Greek version of the hymn, and the English version that is typically sung:
Original Greek Version

English Translation (Free)

English Sung Version

Αρχαίο Πνεύμα αθάνατο, αγνέ πατέρατου ωραίου, του μεγάλου και του αληθινού,Κατέβα, φανερώσου κι άστραψε εδώ πέραστη δόξα της δικής σου γης και τ' ουρανού.Στο δρόμο και στο πάλεμα και στο λιθάριΣτων ευγενών αγώνων λάμψε την ορμή

Και με το αμάραντο στεφάνωσε κλωνάρι

και σιδερένιο πλάσε και άξιο το κορμί. (δις)

Κάμποι, βουνά και θάλασσες φέγγουνε μαζί σου

σαν ένας λευκοπόρφυρος μέγας ναός.

Και τρέχει στο ναό εδώ προσκυνητής σου (δις)

Αρχαίο Πνεύμα αθάνατο, κάθε λαός. (δις)

Immortal spirit of antiquityFather of the true, beautiful and goodDescend, appear, shed over us thy lightUpon this ground and under this skyWhich has first witnessed thy unperishable fameGive life and animation to these noble games!

Throw wreaths of fadeless flowers to the victors

In the race and in the strife

Create in our breasts, hearts of steel!

In thy light, plains, mountains and seas

Shine in a roseate hue and form a vast temple

To which all nations throng to adore thee

Oh immortal spirit of antiquity!

Olympian flame immortalWhose beacon lights our wayEmblaze our hearts with the fires of hopeOn this momentous dayAs now we come across the worldTo share these Games of old

Let all the flags of every land

In brotherhood unfold

Sing out each nation, voices strong

Rise up in harmony

All hail our brave Olympians

With strains of victory

Olympic light burn on and on

O'er seas and mountains and plains

Unite, inspire, bring honor

To these ascending games

May valor reign victorious

Along the path of golden way

As tomorrow's new champions now come forth

Rising to the fervent spirit of the game

Let splendor pervade each noble deed

Crowned with glory and fame

And let fraternity and fellowship

Surround the soul of every nation

Oh flame, eternal in your firmament so bright

Illuminate us with your everlasting light

That grace and beauty and magnificence

Shine like the sun

Blazing above

Bestow on us your honor, truth and love
If, like the Olympic Game organizers, you need to reach a large audience in many different languages, or need a translation for any other reason, Trusted Translations can give you a Free Quote on your next translation project.