Background
It is one of the oldest automatic translations programs on the market, and was designed in 1970 by Dr. Peter Toma.
Toma started his work at Georgetown University. At its commencement, this program was developed for the United States Air Force, and the only language pair was Russian-English.
Then, NASA approved its use for one of its projects, and although the results were not those expected, the program earned certain renown from the experience.
Some time later, the European Commission requested a demonstration of the program for the language pair of English-French. In 1976, Loll Rolling, a civil servant in the European Commission, bought the program.
At the beginning of the nineties, Gachot, a French company, acquired all of the branches, with the exception of the European Commission branch, and the system became very popular in France.
In 1994 it was offered for free in CompuServe chat rooms, and a year later a Windows-compatible version came out.
In 1997, an agreement was signed with AltaVista to offer the Babel Fish translation service for free.
Important modifications had been introduces in the last few years, and apart from traditional rule-based translation, translation memories were incorporated.
Characteristics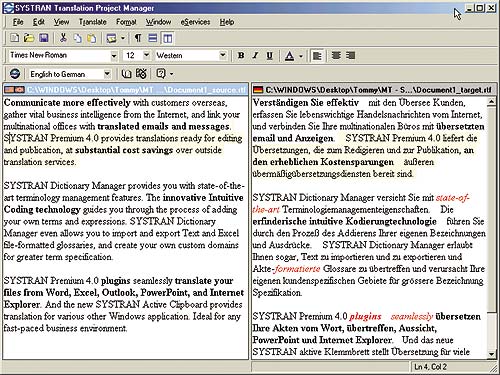 – multiplatform system: GNU/Linux, Microsoft Windows, Google, AOL, AltaVista and Instituto Cervantes;
-integrated multilingual functions:
e-mail, CRM, data bases, electronic commerce, instant messaging, SMS and WAP.
-provides online translation technology services to AltaVista and Google;
-contains 50,000 basic words and 250,000 scientific terms;
-translations are processed at a rate of 500,000 words per hour.
How It Works
Automatic translation is the process that uses computer software to translate texts from one language to another.  It takes into account the grammatical structure of a language and uses rules to pass the grammatical structure to the other language.
It takes into account the morphology, syntax, semantics and numerous exceptions.
It offers the possibility of composing user dictionaries (like a translation memory), which allows to import .txt, .xls, .tmx, MultiTerm or .csv files and export them to other translation memories, such as Trados.
In the case of web page translations, Systran allows pages to be translated while using Internet Explorer or Firefox. Once a page is translated, the "smooth navigation" function automatically translates all of the pages that are linked to the page being viewed. This means that when you click on a link appearing on the page that you are reading, the text automatically appears in the desired language.
Systran offers a free translation of up to 150 words. On the free translation web page, a free translation of up to 750 characters is offered.
Your Opinion
We invite you to leave us your comments and share you personal experience using this program on our forum concerning the advantages and disadvantages of automatic translation programs.
(Spanish version: /?page_id=115748)