Map of Philadelphia Branch
We provide Fortune 500 companies with translations at rates 25 - 50% below market.
Every translation performed by our expert teams is backed by Lloyd's of London.
Trusted Translations is a proud supporter of St. Jude Children's Research Hospital.
We have been named as a "Top 500 Hispanic-American Owned Business" in the U.S.
Trusted Translations has over 5,000 satisfied clients spanning nearly every industry.
Professional Translation Services in Philadelphia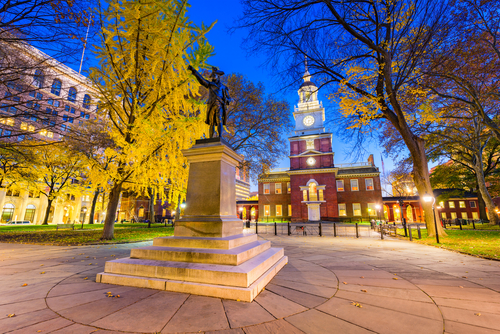 Famous for its role in the Revolutionary-era United States, Philadelphia is now a hub of economic activity along the east coast and within the Delaware Valley, especially in the finance, healthcare, higher education, telecommunications, and tourism industries. Trusted Translations has provided translations to a wide range of businesses throughout the Philadelphia metro area, including AECOM, Audacy, FXI, Dollar General Corporation, Moravia Health, Consarc, and Fox Rothschild LLP, among others.
Trusted Translations is experienced in serving Philadelphia's vibrant mixture of languages and cultures. After English, Spanish is the most popular language spoken in Philadelphia, with a Hispanic population that has nearly tripled since 2000 and the country's second largest Puerto Rican community outside of Puerto Rico. Due to a long history of immigration, Philadelphia is also home to thousands of speakers of Chinese, Haitian Creole, and Vietnamese, as well as to the second-largest Ukrainian community in the United States; moreover, it has a constant influx of international tourists.
About the City of Philadelphia
Showcasing landmarks such as the Liberty Bell side by side with modern financial mainstays like the Philadelphia Stock Exchange, "Philly" attracts millions of visitors each year for both business and tourism. The Philadelphia metro area, which includes Camden (NJ) and Wilmington (DE), has a population of over 6 million people and ranks as the 9th largest economy in the U.S.
Multilingual Translation Services in Philadelphia
For quality translation services and the best rates in the area, please contact our local Philadelphia Trusted Translations office for a free quote.