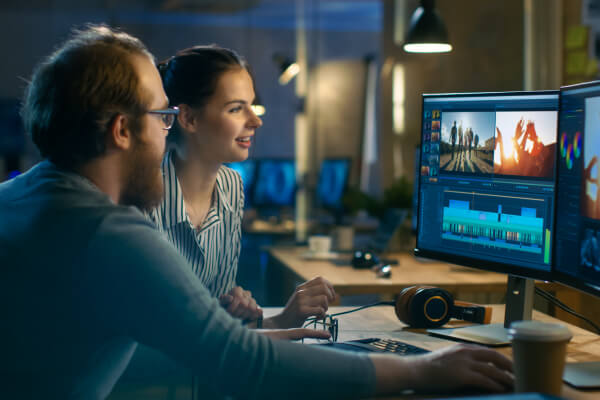 Home » Industry Expertise »
Media and Literary Translation
Translating media content and literature requires an almost opposite skillset from the conceptual and terminological precision of technical, legal, medical, and scientific translations. We provide media and literary translations that convey the emotions, values, and creative impact of the original while maintaining the integrity of the work.
The objective of literary and media text is to highlight various aspects of human thought as well as communicate information to large numbers of people. These types of translations use factual language but also symbolism, puns, metaphors, and other creative features that target the human emotions, rather than solely trying to convey specific information.
In order to communicate the same intent as the original text, we use specialized translators that are experienced in media and literary translations. Translating the effect of the original author is a talent that requires translators who do not just "know" another language fluently, but who are great writers themselves.
Literary Translation
Literary translation is responsible for the global popularity of some of the world's most enduring literature. A good literary translation involves having a feel for the context of the written word and the ability to match the author's original intent, while expertly wielding the different linguistic and stylistic features of the target language.
Our literary translators are skilled creative writers themselves, and are trained to understand the literary context of the work in question. This ensures that the translation contains not only your words and thoughts but also the way you want to convey your message. If you have a novel or other literary work to be translated, we will provide a meticulous, well-crafted solution.
We have marketing experts specialized in media-related content in over 150 languages.
We are a preferred provider of Republica Havas and other top media agencies.
Trusted Translations has a division specialized in media post-production services.
Quality media translation ensures brand protection from errors and misunderstandings.
Media Translation
From press releases and news articles to multimedia specs and digital content, Trusted Translations understands the media industry. We have extensive experience working with top media organizations, including multinational companies and daily newspapers, and recognize the need for fast, accurate media translations. In particular, we are ready to provide last minute changes and quick turnarounds on time-sensitive projects.
The following are some of the media-related documents we typically translate:
Press releases
Digital content
Multimedia presentations
Customer letters and invoices
Brochures and other marketing materials
Full press kits
News articles
TV and radio reports
Corporate communications
Media Translation Teams
All of our media translators have access to translation memories, dictionaries, and media-specific glossaries, ensuring that each translation is both accurate and consistent across even the largest of projects. They also work with our project managers, who are skilled in both project planning and quality control.
In addition, all of Trusted Translations' translators are bound by a commercial confidentiality and corporate nondisclosure agreement. All translations remain confidential; our translators are familiar with the nature of sensitive media communications and will prioritize your projects' security.
Trusted Translations can build teams quickly to support fast turnarounds on major projects, accept all file types, and will deliver ready-to-publish files where required. Reach out to us today to learn how we can be the solution for your media translation needs.