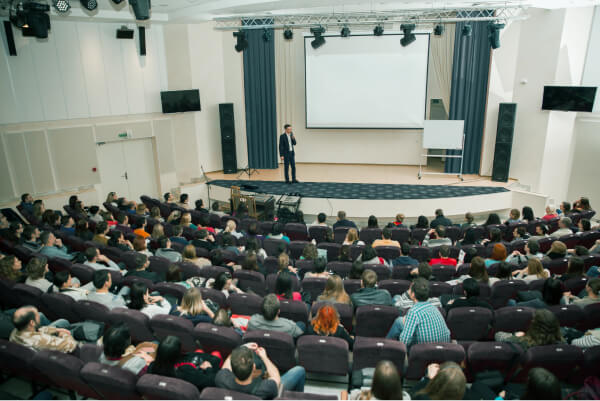 Home » Services » On-site Interpretation »
On-site Simultaneous Interpretation
One of the most well-known forms of on-site interpretation is known as simultaneous or real-time interpretation. From international business conventions to courtrooms,
Trusted Translations
provides the top simultaneous interpreters in the world, delivering the most reliable interpretation for critical communications.
Interpreting for Larger Audiences
During simultaneous interpretation, the interpreter (or, often, a team of two or more interpreters) will interpret from a location close by or in a closed booth while the speaker is talking, creating a practically real-time communication experience. An ideal fit for large-scale multilingual events, such as conferences, this is the type of live interpretation you might be familiar with from United Nations proceedings, presidential speeches that are broadcast worldwide, or international sporting events like the Olympics.
Interpreting Language in Real Time
Simultaneous interpretation assignments are more complex than consecutive translation; interpreters must move at lightning speed to take in and interpret the source language before smoothly delivering an oral translation in the target language. Since simultaneous interpreters must interpret what they hear in context, rather than a basic word-for-word approximation, there is no technology or software that can even halfway approximate the reliability of a real on-site interpreter.
The rapid speed and fluency of simultaneous interpretation demands that interpreters have extensive experience and impeccable credentials. At Trusted Translations, our team includes simultaneous interpreters that have worked with the most reputable organizations in the international community, including the U.N. As such, they are already familiar with strict standards for interpretation quality as well as with high-stakes subject matter.
On-site simultaneous interpretation also relies on certain specialized equipment, which provides both the interpreter and the audience with clear, quality audio. For example, simultaneous interpreters often use specially designed soundproof booths, wireless headsets, television monitors, and top of the line microphones. For the best results, it's important to work with a team that can hook you up with the appropriate equipment from reputable manufacturers.
U.S. federal law requires interpreters in both criminal and civil courts.
Professional interpreters often work in pairs as it is very mentally demanding.
Trained interpreters can reduce medical miscommunication errors by up to 75%.
U.S. law requires hospitals to provide qualified interpreters for patients.
Why Choose Simultaneous Interpretation
Because simultaneous interpretation happens in real time, it also saves time, making it ideal for large conferences and meetings or lectures that involve significant amounts of information. For events with large numbers of attendees and multiple languages at play, simultaneous interpretation is the most efficient option—there is no need to wait for every speaker's speech to be translated after the fact into tens or hundreds of different languages.
In terms of multilingual meetings of a more sensitive nature, such as legal, diplomatic, or business settings, simultaneous interpretation plays a key role, facilitating the accurate―often delicate and nuanced―communication among all interlocutors. Furthermore, as the increase in virtual or hybrid events during the pandemic expanded audiences to new languages and locales, acquiring accurate interpretation for future events is more important than ever.
Trusted Translations is equipped with both the specialized technology and the top interpreters to serve your simultaneous interpretation needs. Our interpreters are highly qualified and specifically trained in simultaneous interpretation. Please reach out to learn more about how we can offer cost-effective solutions for your on-site simultaneous interpretations.