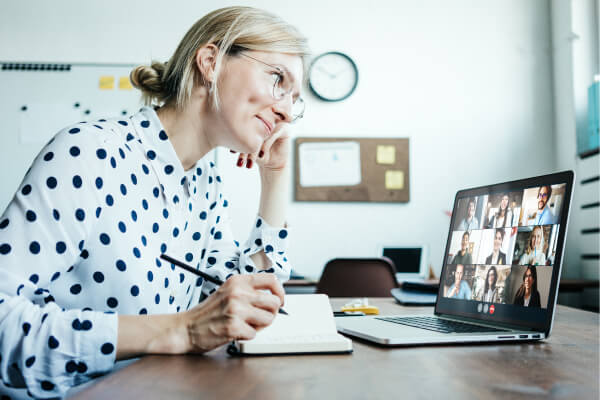 Home » Services » Video Remote Interpretation (VRI) »
Remote Multilingual Interpretation Services on Google Meet
If your organization uses Google products, you may decide to use Google Meet as your videoconferencing platform. At
Trusted Translations
, our experts can provide you with professional remote interpretation via Google Meet for all kinds of multilingual meetings.
Professional Interpretation Using Google Meet
Launched by Google in 2017, Google Meet has quickly become one of the world's most popular video conferencing technologies. This includes being the favorite video call platform (based on market share) in countries like Italy, Denmark, and India.
When it comes to remote language interpretation, Google Meet's relative ease of use makes it a good option for consecutive interpretation, where an interpreter translates a speaker's words during a pause after each portion of speech.
However, for simultaneous, real-time interpretation, Google Meet does not currently have extensive specialized support for interpreters within the main meeting window. Users often find themselves relying on unwieldy workarounds, such as having the interpreter call into a separate meeting link to provide audio, or adding third-party Chrome extensions to enable simultaneous interpretation.
Pros and Cons of Google Meet for Remote Interpretation
There are certainly some limitations to using Google Meet for remote interpretation. In addition to the lack of dedicated features for language interpreters, Google Meet only allows 250 people to attend your meetings (compared to Zoom's 1,000 attendee limit). This is not ideal for large events.
However, there are also several benefits unique to Google Meet, such as:
Closely integrated with other Google products, like Google Workspace, and free for all Google account users
Browser-based, not software-based, so users do not need to download extra software or apps
Excellent encryption and security features
Same functionality on mobile as on desktop, with simple user interface
Free plan allows up to an hour in length
Google Meet is the preferred platform in 21 countries.
Google Meet connects over 2 million new users every day.
Google Meet generates a unique encryption key for every person and every meeting. 
Google Meet's cloud storage starts at 15 GB for free plan users.
When to Use Google Meet for Multilingual Meetings
So, where does Google Meet really shine? Its strong security features are a highlight. All participants in a Google Meet must have a Google account, allowing organizers to verify each participant and avoid disruptive intruders. Google's 10-character meeting codes are designed to better prevent hacking, and all data in Meet (including recordings) is encrypted by default. With the support of Google's powerful security infrastructure, Google Meet can be an especially good choice for proprietary material, government issues, and other meetings where privacy is of the essence.
Moreover, Google Meet is browser-based rather than software-based like Zoom or Teams, and it can live in any web browser—users don't have to download any new software. Combined with its transparent and user-friendly interface, this makes Google Meet an appealing option for participants unfamiliar with technology. It's also a boon for users in regions with weak internet connections, for whom the high-power consumption of apps like Zoom and Teams can pose problems.
For smaller, more private meetings and events, Google Meet is an excellent choice, especially if your organization already uses Google products.
Our Staff
As longtime providers of both simultaneous and consecutive interpretation, Trusted Translations is ready to fulfill all your remote communication needs. We also have significant experience with Google products, such as Google Play, and can advise you on how to utilize the Google Meet platform for the best results.