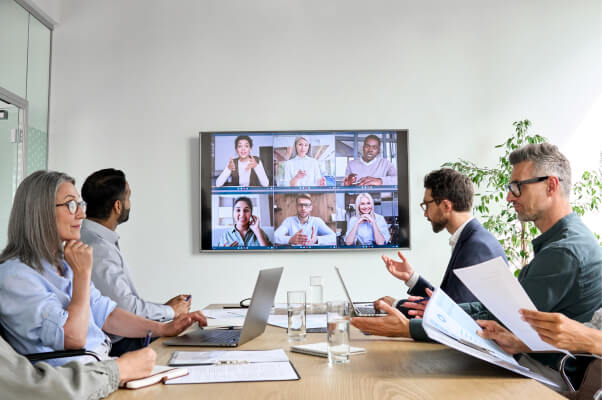 Home » Services » Video Remote Interpretation (VRI) »
Remote Multilingual Interpretation Services on GoTo Meeting
You may wonder where to find quality interpretation if your company favors a less well-known remote work platform, such as GoTo Meeting. Fortunately, when it comes to multilingual communication, our
Trusted Translations
team is ready to work with the tools you already have and prefer. Our experts can provide exceptional interpretation services for all your GoTo Meeting needs.
Professional Interpretation for GoTo Meeting Events
One of a suite of communication and collaboration products created by GoTo (formerly known as LogMeIn), GoTo Meeting is a remote videoconferencing platform originally developed in 2004. GoTo Meeting is available in over 190 countries worldwide, with about half its users based in the U.S. and with India as its second most popular user base.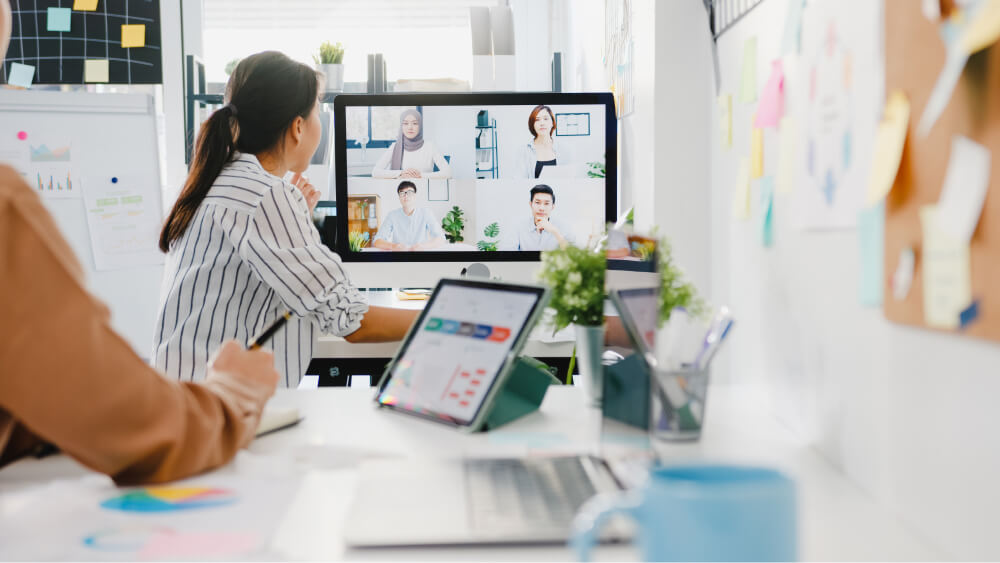 The platform itself supports seven display languages, which can be changed at any time during a session: English, Spanish, Chinese, French, Italian, German, and Brazilian Portuguese.
Outside of this language support for users, GoTo Meeting does not offer features designed specifically for remote interpretation. To add a remote simultaneous interpreter to a GoTo Meeting session, the interpreter will have to join the meeting in another window, like any other new participant. That said, some of GoTo Meeting's inherent features can be of general benefit to remote interpreters, such as its background noise suppression and its excellent mobile phone app.
Benefits of GoTo Meeting for Multilingual Meetings
 Although perhaps lacking the name recognition of competitors like Zoom and Teams, GoTo Meeting does have some elements that stand out from the crowd:
Touts an industry leading service uptime of 99.9% (it's extremely reliable)
Toll-free and Call Me options available in 50+ countries
Enterprise-grade security features, currently developing E2E encryption
Collaborative tools (drawing tools, etc.) all administered by GoTo
No software or app downloads necessary
During the COVID-19 pandemic, GoTo also launched GoTo Meeting for Healthcare for clients in North America, highlighting its HIPAA-compatible service tailored for healthcare settings.
GoToMeeting's majority of users are in the United States and India.
GoTo launched a new mobile app in 2023, rated 4.5+ out of 5 stars on Google Play and the App Store.
GoTo has a 99.9% uptime, leading the videoconferencing industry.
GoTo Meeting's Call Me and toll-free features are available in over 50 countries.
Limitations of GoTo Meeting for Remote Interpretation
GoTo Meeting's participant limits vary according to subscription plan, but the maximum (for its Business or Enterprise plans) is 250 attendees, like Google Meet. This makes GoTo Meeting less suitable for very large conferences. GoTo does have a separate product, GoTo Webinar, that supports virtual conferences and events for up to (depending on plan) 3,000 participants. However, depending on your budget, needs, and estimated audience numbers, you may not want to have to purchase a different product to get your desired functionality.
Another drawback is that GoTo Meeting does not have closed captioning features, although the company recommends some workarounds for live captions. The platform does include transcripts of meetings after completion. However, live interpreters may find that GoTo Meeting comes up slightly short when compared to other platforms that offer more interpretation-specific elements.
Our Staff
Our Trusted Translations remote interpreters are familiar with GoTo Meeting and accustomed to providing high quality service, regardless of platform. Also, if you're not yet sure whether GoTo Meeting is the right fit for your business requirements, we can offer you guidance on how best to accomplish your organization's remote communication goals.