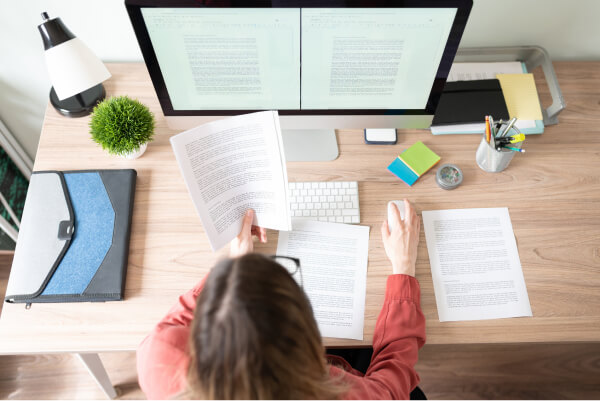 Home » Services » File Formats »
Microsoft Word Translation Services
For your Microsoft Word document translation needs,
Trusted Translations
is your best choice for fast, reliable, accurate, and professional translations. We can provide translations that look just like the original document, from the formatting, to any hyperlinks, index, graphs or images that are embedded in the original text so you can convey your message as precisely as possible in the target language.
All of your Microsoft Word document translations will undergo a meticulous process of translation, edition and proofreading, and if required, a desktop publishing step will be included as part of our complete translation services. In the case that a desktop publishing step is necessary, there will even be a post desktop publishing proofreading component to assure that the final product is of the highest quality and ready for immediate use.
Translation Services for Microsoft Word Files
Trusted Translations' expert team not only provides the most professional and accurate translation in the industry, but takes every detail of your Microsoft Word translation projects into account. Microsoft Word is the most widely used word processing program worldwide, and although at first glance it may appear as though it is an easy format to utilize for a translation project, it can often be quite complex. Its user friendly nature makes it a popular platform for incorporating many elements such as hyperlinks, graphs, images, spreadsheets, pivot tables, indexes, as well as other embedded file formats, just to name a few. When we undertake a translation project at Trusted Translations, we take all of these elements into account throughout our translation process.
How We Translate a Word Document?
Our expert team of translators and desktop publishers ensures that the final product will not only be professionally translated, but that every component of your MS Word document is seamlessly reincorporated, ready for immediate use. We will take on a Microsoft Word translation project of any size, no matter how complex, and will deliver a professionally translated and skillfully designed Word document in return.
When you give Trusted Translations a MS Word document translation project, you will receive a document in the target language that looks just like the original; everything from the formatting to any other embedded elements will look as though they had never been translated.
Every component of your MS Word document(s) will be seamlessly reincorporated.
Word documents are one of the most compatible file formats for CAT Tools.
We provide translations that look just like the original MS Word document's layout.
We  will translate any documents or images embedded within the text.
Desktop Publishing for Word Documents
In the case that your MS Word document contains embedded elements such as graphs, spreadsheets, pivot tables, images, hyperlinks, indexes, among others, Trusted Translations' expert team will ensure that every component is individually managed and executed. Our desktop publishers will extract all embedded elements of the document to be worked on accordingly. Our industry-specific translators will accurately translate all of the embedded text while any formulas, unit conversions, pivot tables and more will be precisely managed by our desktop publishing team. If your document includes an index, our desktop publishing team will ensure that every link automatically redirects the reader to its corresponding section within the MS Word document. If there are embedded pivot tables, desktop publishing will ascertain the accurate conversion of the units of measurement and its corresponding formulas, if requested by the client. If there are other embedded file formats in your Microsoft Word document, such as an Excel spreadsheet or a Visio flowchart, that you would like to include as part of the translation, our DTP team will extract each file format so it can undergo an individual translation process. Finally, our desktop publishers will reincorporate each component back into the translated MS Word document so they fit seamlessly and are ready for immediate use.